Tour Packages in Kanyakumari
Are you looking for Kanyakumari tour packages? Look no further! Sivasudar Travels Kanyakumari is here for you. We have been in business for over 13 years and are a leader in the industry. We will get you to your destination safely, and we offer a variety of packages for your vacation. Whether it's a family vacation, or an exciting trip with friends, we can handle it all.
Sivasudar Travels is located in Kanyakumari, so if you are flying into the city, we can pick you up from the airport and make sure that your transfers are safe and comfortable. You can also book our train tickets or your own transportation to Kanyakumari while you're here at our offices! Our friendly staff will not only help you plan your perfect vacation but also help with all of the details on how to get there as well.
Kanyakumari Sight Seeing Places
Kanyakumari is a place to visit for those who miss their homeland. It has everything that the heart desires, beautiful and pleasant climate, the Sea that touches the three states of Kerala, Tamil Nadu and Karnataka and many places to explore like Thiruvalluvar Statue, Kanyakumari Temple. The tourists can also take a trip to Vivekananda Memorial and Thiruvalluvar Statue.SivaSudars travels Kanyakumari offers exclusive services for hospitality and accommodation to the tourists. The travel agency started its journey with a motto of offering good and safe travels to the foreign tourists who visit Kanyakumari.
Vivekananda Rock Memorial: Tranquil Memorial 
Kanyakumari is one of the most popular tourist destinations in South India. The Vivekananda rock lighthouse and an ancient temple dedicated to Hindu goddess Kali are among the main attractions of Kanyakumari. This place also has numerous beaches, an aquarium and a Christian church that reflects the religious harmony of India. With so much to explore and experience, you're guaranteed to fall in love with this place.Vivekananda Kanyakumari Tourist Places Kanyakumari has a lot of tourist destinations that are well linked by road. The major places that one can visit and spend time in the city would be Chithirapuram, Vivekananda rock and Kumari Amman temple. You can even browse the Internet to get information on Kanyakumari tourist places as it is an easy going as well as convenient way to plan your trip.
Opening Hours: 8AM to 4PM on all days
Ferry ticket cost: Rs 35 for a normal ticket, Rs 169 if you want to skip the boat queue
Thiruvalluvar Statue: Majestic Saint In Stone
Just adjacent to the Vivekananda rock memorial is the towering stone statue of the much revered Tamil poet and philosopher, Thiruvalluvar. The 38-feet high pedestal is symbolic of the 38 chapters of virtue in the literary masterpiece, the Tirukkural, while the 133 feet high statue represents the 133 chapters in the book. This is a place of great cultural significance and one of the most popular Kanyakumari sightseeing places.
Opening Hours: 8AM to 4PM on all days
Ferry ticket cost: A single ticket includes a round trip to both the rock memorial and this statue
Bhagavathy Amman Temple: Profound Religious Experience
For the divine temple, the main attraction in Kanyakumari is the Devi Kanyakumari temple which is known to be amongst the sacred 108 shaktipeeths in India. Located near the shore just a kilometre away from the railway station and bus stop, it can be easily reached by road. This is the reason why this place gets its name due to such an awesome temple present here. The architecture of this historic shrine looks impressive with beautiful stone carvings and it is constructed in a method similar to that of the famous Dravidian style structure. Besides this, there are many things that make this place worthy of a visit like The Vivekananda memorial – also known as rock memorial, Napoleon's bed and various other interesting things that are well worth exploring and taking pictures. Here, one can discover some of the most amazing shopping areas where they can pick up handmade boxes with various separate partitions to keep all sorts of items safe during your travel.
Opening Hours: 4:30Am to 12:30PM; 4PM to 8PM on all days
Entry fee: The entry is free however INR20/INR50 entry ticket can be bought for fast darshan
Gandhi Mandapam: Remembering The Father Of The Nation
An architectural wonder that spreads across the western bank of Thiruvalluvar Theertham, the Kanyakumari Gandhi Mandapam is an iconic and well-maintained monument. Built in the year 1966 and using Italian red marble, this monument rests upon 19 pillars that represent the founding states of the nation. On a clear day, tourists are able to see across the waters to major cities such as the historic Trivandrum, Tirunelveli and so on Kanyakumari is the southernmost tip of India. It is one of the most famous religious tourist spots in the world.There are many temples, churches and mosques. The Gandhi Mandapam honors Mahatma Gandhi's presence when India was declared a sovereign republic on January 26, 1950. Aside from these tourist spots, Kanyakumari has some beautiful beaches which are surrounded by hills.
Opening hours: 7AM to 7PM on all days
Entry fee: No entry fee, however a token amount of Re 1 is collected for keeping the shoes outside.
Kanyakumari Beach: Picture Perfect Moments
Kanyakumari beach in kanyakumari is the southern most tip of india. Its also a wonderful place to see different cultures and religions living together in harmony. The most interesting thing you can see here are the coconut tree crosses. These crosses are set beneath huge coconuts trees that move with the breeze, creating quite an amazing sight.
Opening hours: 9AM to 6PM on all days
Thanumalayan Temple: Seek The Blessings
The temple is located 7 km from the city and was built in the 10th century. The uniqueness of the temple is that Lord Shiva and his family are enshrined at the same place along with Vishnu, Brahma, Ganesha, Subramanya etc. This place is largely visited for its beautiful carvings, gopurams and a rich heritage. The 18-feet musical pillars carved out of a single granite stone are a major attraction. The temple has strict dress code for both men and women and one needs to be wary of the so called guides and pandas who are on the lookout to extract money from tourists.
Opening hours: 4:30Am to 11:30AM; 5PM to 8:30PM on all days
Entry fee: No entry fee.
Padmanabhapuram Palace: Superb Architecture
The palace comprises eight blocks of living chambers, beautifully designed and structured in an interlocking manner. Moreover, these elegant rooms are beautifully decorated with murals and sculptures. Even today, the walls of this palace boast the presence of mirrors that were sourced from Europe. Interestingly, the intricate wooden pillars are intricately carved to resemble palm trees and people. Another interesting fact associated with this palace is that, a jackfruit tree can be found at its entrance. This specimen took three years to attain its current form from a mere sapling. The reason behind this eventful transformation is Prince Travancore's loving wife Sivakami Bayi, who was pained to see a tiny tree withering away in drought. Her compassionate intervention saved the tree from dying and it has been standing there ever since.
Opening hours: 9AM to 1PM; 2PM to 4:30PM. Closed on Mondays.
Entry fee: INR 25/adult; additional fee for still and video cameras
Our Lady of Ransom Church: Gothic-style Structure
A stunning white gothic style structure, the Kanyakumari church is a wondrous sight to behold. Built in 1862 by Lord Napier, the church is dedicated to St. Thomas, apostle of Jesus Christ. This peaceful church is located at a walking distance from the crowded beaches and the lighthouse. You can witness the beauty of this magnificent structure and its sculptures at night time, when its vibrant lights are turned on.
Opening hours: NA
Vattakottai Fort: Rich Historical Value
The Kannyakumari fort is an architectural marvel, built with fortifications to withstand the greatest of attacks. This small fort is a miniature version of great forts and castles that one finds around the world, and has a fascinating history tied to some of India's greatest rulers and warriors. Recently, private renovation work has added new glazes and colors to some parts of the fort, giving it a very unique look.
Opening hours: 8AM to 5PM, on all days.
Entry fee: Free entry
Mathur Aqueduct: Perfect For Nature Lovers
A visit to Kannyakumari is incomplete without a trip to this engineering marvel. The 100-feet high aqueduct surrounded by lush greenery is one of the most awe-inspiring places in Kanyakumari. Built across the Pahrali River as a drought relief measure, it carries water from one hill to another. Taking a walk on this narrow aqueduct is certainly an adrenaline rush; special care must be taken with children as it is a narrow bridge. Do not miss out on trying succulent pineapples in this area.
Opening hours: 7AM to 7PM on all days
Entry fee: INR 2/adult; additional fee for still and video cameras.
Thirparappu Falls: Cascading Waterfalls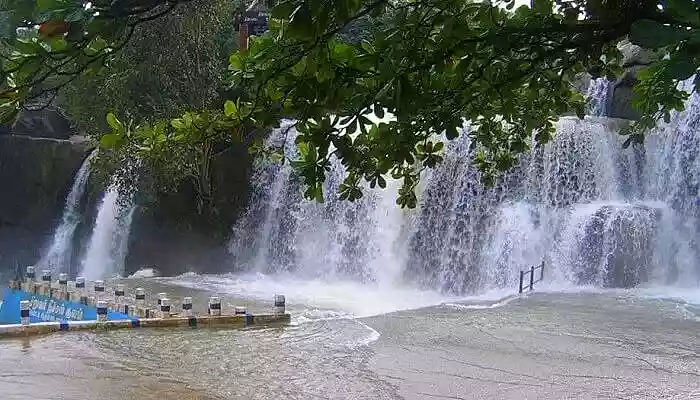 This 100-feet high aqueduct surrounded by lush greenery is one of the most awe-inspiring places in Kanyakumari. Built across the Pahrali River as a drought relief measure, it carries water from one hill to another. Taking a walk on this narrow aqueduct is certainly an adrenaline rush; special care must be taken with children as it is a narrow bridge. Do not miss out on trying succulent pineapples in this area. for a fun-filled day with family and children.
Opening hours: 7.00am to 6.00pm
Entry fee: INR 5 per head and INR 30 for camera
Wax Museum: Statue Of Prominent People
Wax Museum in Kanyakumari is one of its kind museum housing all the important figures of Indian as well as world history. Also, it showcases the history of South India starting from the Indus Valley Civilization and also presents models, authentic photographs and many more. With a total of 25 life size wax statues, this place is worth visiting for everyoneplaces to visit in Kanyakumari. It is one of its kind museum housing all the important figures of Indian as well as world history. The well-maintained museum has wax statue of many renowned people like Sir Abdul Kalam, Sir Amitabh Bachchan, Charlie Chaplin, Michael Jackson.
Opening hours: 8.00am to 6.30pm (Sunday closed)
Entry fee: INR 50 for adults and INR 40 for children
Sothavilai Beach: An Offbeat Attraction
The Sothavilai beach also known as Chothavilai, is one of the most famous beaches in Kanyakumari. The offbeat attraction has a long shore stretching up to four km along with beautiful lawns, sitting arrangement. It is an ideal place for swimming, and water bath because of quite shallow waters. One can enjoy the sky touching natural beauty through uncountable palm trees surrounding the area.
Opening hours: 24 hours
Entry fee: No entry fee
Tsunami Monument: Unique Tourist Attraction
One of the famous tourist places in Kanyakumari, Tsunami Monument is a unique monument built in memory of all who died in the Indian Ocean earthquake and tsunami that shook the entire nation on 26 December 2004. The memorial is constructed by architect B. Kanagaraj. A stroll through this monument fills visitors with calmness.
Opening hours: 6.00am to 7.00pm
Entry fee: No entry fee
St. Xavier Church: Famous Historical Structure
St. Xavier Church is a beautiful church in Kottar of Nagercoil, which was built by St Francis Xavier in the year 1678. It is one of the main historical precincts in Tamil Nadu. It is one of the most famous churches in India. The spirituality and power of the church attracts people from all around the world to seek blessings from the Lord. This famous church celebrates various religious and spiritual events throughout each year for which people travel from far off places to attend them.
Opening hours: 8.00am to 6.00pm
Entry fee: No entry fee
Sunset View Point: Enjoy The Breathtaking View
Sunset point, also known as Kanniyakumari point have a view that is just mesmerizing. It's the only spot in South where three oceans meet-The Bay of Bengal, The Indian Ocean, and the Arabian Sea. No island at such a distance has such a beautiful sunset.
Opening hours: Sunrise to sunset
Entry fee: No entry fee
Olakaruvi Falls: Enchanting View
Situated towards the middle of a hill of Western Ghats, Olakaruvi Falls is a one hour trek from the rocky forest area. Also known as Ullakaarvi Falls, this is one of the best waterfalls in Kanyakumari. They are two-level gorgeous waterfalls – the lower one being perfect for the picnic while the higher one requires a trek of a kilometre.
Opening hours: NA
Entry fee: No entry fee
We have all types of Vehicles like Sedan SUV Hatchback, Luxury, Indigo, Swift D-zire, Etios, Tavera, innova, Renault lodgy, Cruiser van, Car, Force Tempo Traveler, Tourister, City Rider, Van, Mini Bus, Bus, Taxi for half day, full day Sightseeing with guide and without guide. We are the Best Travels and Tour operator, and we organize Domestic / International tours with cheap and best packages. For all type of online booking (Hotels, Rooms, Tours, Holidays), Recharges, Bill payments, Flight tickets, Train Tickets, Bus Tickets also available.
How to Reach Kanyakumari?
Hello, traveller! We're super stoked you decided to visit us here at Sivasudar Travels. There's a lot of places to go and things to see in this world, and Kanyakumari is one of them. It's a fun-filled place with lots of exciting activities. But how do you get here? Don't worry—we're going to make it easy for you. Here's how you can reach Kanyakumari:
1. By Air:

How to Reach Kanyakumari by Air: Kanyakumari does not have its own airport and Thiruvananthapuram International Airport located around 90 km away from Kanyakumari in Kerala serves as the nearest airport. The airport is served by all important domestic and international airlines flying from different parts of India and abroad.
2. By Road:
Book your bus ticket to Kanyakumari from anywhere in South India. Sivasudar takes care of your travel plans, by having a good fleet of buses.
2. By Train:
From Mumbai to Kanyakumari
Train 16381 - MUMBAI CSMT - KANNIYAKUMARI Jayanti Janta Exp
From chennai to Kanyakumari
Train 12633 - CHENNAI EGMORE - KANYAKUMARI SF Express
From Bangalore to Kanyakumari
Train 16526 - BANGALORE - KANNIYAKUMARI Island Express
From Bangalore to Nagercoil (Nagercoil is 20 Kilometer far from kanyakumari)
Train 17235 - BENGALURU CITY - NAGERCOIL Express
From West bengal Howrah to Kanyakumari
Train 12665 - HOWRAH - KANYAKUMARI SF Express
From Delhi to Kanyakumari
Train 12642 - HAZRAT NIZAMUDDIN - KANYAKUMARI Thirukkural SF Exp
From Jammu and Kashmir to Kanyakumari
Train 16318 - SMVD KATRA - KANNIYAKUMARI Himsagar Express
---