Gunung Gading National Park
Wannabe botanists likely will enjoy a visit to Gunung Gading National Park where the world's largest flower grows. Rafflesia blooms can grow up to three feet in diameter, and have a nasty smell. The blooms die after a few days; the good news is they can bloom anytime of the year, though the best time is November through January. But there's more to see than just one flower. The Sarawak park has nice beaches, rugged mountains and jungles just made for hiking.
Manukan Island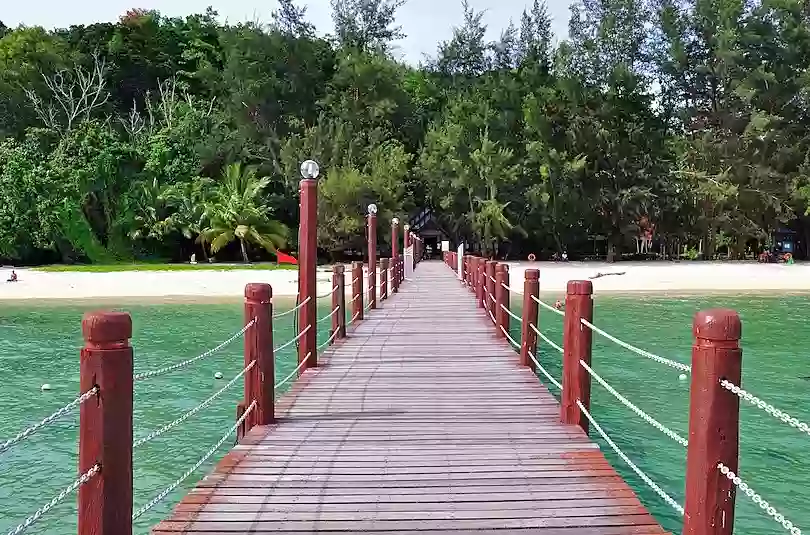 Water activities shine at Manukan Island, the second largest island in Tunku Abdul National Park, Malaysia's first marine national park. Located in eastern Malaysia's Sabah state, the park is known for its great beaches – the best beach is at the island's eastern end. Travelers also will find coral reefs offshore that offer some pretty spectacular scuba diving and snorkeling. Manukan Island has the most developed tourist facilities of the five islands in the park, and is accessible by ferry from Kota Kinabalu.
Kek Lok Si Temple
As temples go, Kek Lok Si Temple at Penang is a relatively new temple, dating back only to 1891. Despite its youth, it is one of the most important Chinese Buddhist temples in Southeast Asia. The Temple of Supreme Bliss, as it's also known as, is an impressive sight, with countless images of Buddha another Buddhist icons and gods. It is the largest Buddhist temple in Malaysia and draws pilgrims from throughout Southeast Asia. The main highlight of the complex is the Temple of Rama IV with its 10,000 Buddha carvings..
Batu Caves
Travelers who make their way to Batu Caves near Kuala Lumpur will be rewarded with some pretty awesome Hindu art. The three main caves that make up Batu Caves make it the most popular Hindu shrine outside of India, and attract thousands of worshippers at Thaipusam, an annual Hindu festival. The highlight of the site is a giant statue of a Hindu god, reached by climbing 272 steps to the Cathedral Cave. Monkeys also enjoy the site and can be seen playing there.
Semenggoh Nature Reserve
The Semenggoh Nature Reserve is famous for its orangutan orientation program in which orphaned or rescued orangutans are taught to live in the wild. Because of this, the surrounding forests have a thriving population of orangutans that are breeding in the wild. The best time to see the orangutans are the morning and afternoon feeding sessions. The Semenggoh Nature Reserve Also has a thriving bird population with colorful exotic Malaysian birds, including the Bornean black magpie, yellow rumpled flowerpecker, Malaysian honeyguide and brown hawk owl.
Travelers can take a trip into the past with a ride on a 1900s steam train, the North Borneo Railway. The only train on Borneo, this old-fashioned train chugs about 83 miles from Tanjung Aru to Papar. Riding this train is a good way to see local villages with houses built on stilts and rice paddies being worked with water buffalo. Travelers enjoy Asian and Continental cuisine meals as they journey in one of five restored carriages. The train only runs on Wednesday and Saturday.
Bukit Bintang (Kuala Lumpur)
Travelers who like to stop 'til they drop will have a field day at Bukit Bintang, Kuala Lumpur's main shopping district. Bukit Bintang has several malls, including Benaya Times Square, one of the largest malls in the world. This mall houses an indoor theme park. The district is filled with upscale malls and malls that specialize in electronics. After a day of shopping, visitors can unwind at a sidewalk café or nightclub, since Bukit Bintang also is Kuala Lumpur's trendiest entertainment district.
14. Bako National Park
Bako National Park is a popular tourist attraction in Malaysia for travelers who enjoy the great outdoors. Located in Sarawak state on Borneo, it's not very big but packs a wallop for its size. Travelers can see wildlife, rainforests, tumbling waterfalls, beaches and sea stacks. The biggest attraction in the park is the bizarre, obscene-nosed proboscis monkey, though they are rare and difficult to spot. It also has great nature trails, from easy strolls to full-day hikes through the jungle, so all visitors should be able to find one that suits them.
Christ Church (Melaka)
Christ Church is a landmark in Melaka. Built by the Dutch in the mid-18th century, it is the oldest functioning Protestant church in Malaysia. Built in typical 18th century Dutch architectural style, the building is noted not only for its colorful façade but for its contents, too. Among them are a bell cast in 1698; tombstones, written in Portuguese that are incorporated into the church floor, and a brass Bible stand. It is now an Anglican church.
Kinabatangan River
Kinabatangan River is the second longest river in Malaysia, stretching nearly 550 km (350 miles) from the mountains to Sulu Sea. Located in Sabah state on Borneo, the Kinabatangan River is known for its diverse wildlife and vegetation. It's a good place to see Asian elephants, crocodiles, proboscis monkeys and Bornean orangutans – it's one of two places in the world to find 10 species of primates, as well as 200 bird species. It's known, too, for rain- and limestone forests, and salt and freshwater swamps..
Sipadan
Sipadan, in the Celebes Sea, is a diver's paradise. Malaysia's only oceanic island, Sipadan was formed by living coral atop an extinct volcano cone. Because of rich marine life, it's one of the best diving spots in the world. Sipadan has more than 3,000 species of fish and hundreds of different corals, all waiting to be explored. Divers may come across hawksbill and green turtles, manta rays, schools of barracudas and whale sharks. The island also has nice sandy beaches.
Cameron Highlands
The Cameron Highlands is one of Malaysia's most extensive hill stations, first developed by the British in the 1920s. It has a population of more than 34,000 people consisting of Malays, Chinese, Indians and other ethnic groups. The Cameron Highlands is renowned for its trails. They lead visitors through the forest to waterfalls and other tranquil spots. Apart from its jungle walks, the sanctuary is also known for its tea plantations and visitors can book several "tea factory" tours.
Georgetown Inner City
Named after Britain's King George III, Georgetown is located on the north-east corner of Penang Island. Named after Britain's King George III, Georgetown is situated on the north-east corner of Penang Island. The greater part of George Town's populace is of Chinese beginning. Because of severe controls, George Town holds a large number of its pilgrim time shophouses right up 'til today. It is formally perceived as having a remarkable engineering and social townscape without equal anyplace in Southeast Asia. The town genuinely springs to life in the nights, when the greater part of local people head to the close by road peddlers to have their dinners and drink
Taman Negara
Taman Negara, which in a real sense signifies "public park" in Malay, is one of the most seasoned jungle on the planet. It highlights gigantic trees, cascades, wilderness trips of different term and the world's longest overhang walkways. A few path empower the guest to investigate the timberland without an aide. Taman Negara is a shelter for imperiled animal categories like the Asian elephant, tigers, panthers and rhinos, yet numbers are low and sightings are extremely uncommon. It's improbable that you will see anything over birds, little deer, reptiles, snakes and maybe an ungulate..
Pulau Tioman
Tioman is a little island situated off the east bank of peninsular Malaysia. During the 1970s, Time Magazine chose Tioman as one of the world's most excellent islands. Travelers have flooded to the island from that point forward, looking for a sample of heavens. The island is encircled by various white coral reefs, making it a sanctuary for scuba jumpers while the inside is thickly forested. Guests dwarf locals outside the storm (November to February), however Tioman can be essentially abandoned at different occasions..
Mount Kinabalu
With a culmination stature at 4,095 meters (13,435 ft), Mount Kinabalu is the most noteworthy mountain in Borneo. The mountain is known worldwide for its gigantic organic and natural species biodiversity. North of 600 types of plants, 326 types of birds, and 100 mammalian species have been distinguished at Mount Kinabalu and its encompassing. The primary pinnacle of the mountain can be ascended effectively by an individual with a decent state of being, and requires no mountaineering gear despite the fact that climbers should be joined by guides consistently.
Petronas Twin Towers
The Petronas Twin Towers in Kuala Lumpur The Petronas Twin Towers in Kuala Lumpur were the world's tallest structures prior to being outperformed in 2004 by Taipei 101. Notwithstanding, the pinnacles are as yet the tallest twin structures on the planet. The 88-story towers are built to a great extent of supported cement, with a steel and glass exterior intended to take after themes found in Islamic craftsmanship, an impression of Malaysia's Muslim religion. The Petronas Twin Towers include a sky span between the two pinnacles on the 41st and 42nd floors.
Langkawi
Malaysia's most popular occasion objective, Langkawi is an archipelago of 99 islands in the Andaman Sea. The islands are a piece of the territory of Kedah, which is nearby the Thai line. By a wide margin the biggest of the islands is the eponymous Pulau Langkawi with a populace of around 65,000, the main other occupied island being close by Pulau Tuba. Bordered with long, white sea shores and with an inside of wilderness covered slopes and rough mountain tops, it's not difficult to see the reason why this is Malaysia's most intensely advanced vacationer location. The most famous sea shores can be found on the west coast with a wide selection of cafés and restaurants and the absolute best hotels in Langkawi..
Perhentian Islands
Situated off the shoreline of northeastern Malaysia not a long way from the Thai boundary. The Perhentian Islands are the must-go spot in Malaysia for financial plan voyagers. They have a portion of the world's most wonderful sea shores and extraordinary jumping with a lot of modest convenience. The two fundamental islands are Perhentian Besar ("Big Perhentian") and Perhentian Kecil ("Small Perhentian"). Both the islands have palm-bordered white sandy sea shores and turquoise blue ocean.
Sepilok Rehabilitation Centre
Sepilok Orang Utan Rehabilitation opened in 1964 for saved stranded child orangutans from logging locales, manors and illicit hunting. The stranded orangutans are prepared to endure again in the wild and are delivered when they are prepared. The Orang Utan asylum is situated inside the Kabili-Sepilok Forest Reserve, quite a bit of which is virgin rainforest. Around 60 to 80 orangutans are sans living in the save. It is one of Sabah's top vacation destinations and an incredible visit on any Malaysia schedule.
Mulu Caves
The Mulu Caves are situated in the Gunung Mulu National Park in Malaysian Borneo. The recreation area includes fantastic caverns and karst arrangements in a bumpy tropical rainforest setting. The Sarawak chamber viewed as in one of the underground caverns is the biggest cavern chamber on the planet. It has been said that the chamber is enormous that it could oblige around 40 Boeing 747s, without covering their wings. The colossal province of Wrinkle-lipped bats in the close by Deer Cave exit pretty much every evening looking for food in a dynamite departure.