Lake Baikal
Lake Baikal
When it comes to breaking records, Lake Baikal is hard to beat. This massive high-altitude rift lake in Siberia is the oldest and deepest lake in the world—reaching a maximum depth of 1,642 meters and an estimated 25 million years of age. Baikal is also the largest freshwater lake in the world—over 20 percent of the world's fresh water is in this lake.
Although Lake Baikal is considered one of the clearest lakes in the world, this is particularly noticeable in winter, where, in some areas, it's possible to see up to 40 meters down into the water—even though much of the lake's surface freezes over for up to five months of the year.
For about a month around August, the lake's water temperature can reach around 16 degrees Celsius, making it suitable for quick dips or short swims. During the rest of the year, however, it usually stays under five degrees Celsius.
In summer, Lake Baikal is a famous destination for kayaking, boat cruises, and island hopping to discover shorelines and beaches. In winter, when the lake freezes over, visitors can cross-country ski across sections of it and visit the frozen Tazheran Steppes caves.
Moscow
Red Square in Moscow
Since most international flights arrive or at least stop in Moscow, it's worth planning your trip so you at least have a few hours to explore the city. Russia's capital is a magnificent mix of greenery, stunning architecture, and lots of historical reminders of times gone by.
Visitors to Moscow usually start exploring in the center, where the Kremlin, Red Square, and the colorful St. Basil's Cathedral are located. The shopping mall GUM, with its glass and steel roof, is also a popular destination—even by tourists who can't afford the luxury brands sold here—and a great place to try authentic Russian food.
Even if museums are not your thing, Moscow has some amazing options, including The State Tretyakov Gallery (which houses only Russian art); the Pushkin Museum (for more international collections); and the Kremlin Armory Museum for a look into some unique items, such as the ivory throne of Ivan the Terrible and gold-covered imperial carriages. The Bolshoi Theater, one of the largest ballet and opera theaters in the world, is also worth a visit if you can get tickets.
Some of the best things in Moscow require some walking to be properly explored, such as the pedestrian-only shopping street Stary Arbat and the boardwalk along the River Moskva.
Moscow's Metro stations are a work of art in themselves, decorated with porcelain relief, crystal chandeliers, and unique mosaic artworks that make these places basically look like subterranean palaces.
St. Peterburg
St. Petersburg
Although smaller than Moscow, St. Petersburg actually has so much to offer, it's often impossible to see it all in one day. Compared to Moscow, St. Petersburg feels more European—fine art and exquisite design details mixing in with history around every corner. You can explore it on foot to admire the architecture up close and personal, or hop on a cruise to explore part of the 300 kilometers of canals that cut through the imperial city.
For a stunning overdose of white and gold colors, visit Moika Palace (most famous for being the place where Rasputin was killed) and the Neoclassical, 19th-century St. Isaac's Cathedral, which is actually a Russian Orthodox museum.
The Hermitage Museum, perhaps St. Petersburg's most famous tourist attraction and the second largest art and culture museum in the world, has a collection of over three million items that cover everything from prehistoric art (including articles from the nomadic tribes in Altai) to Catherine the Great's art collection.
About 25 kilometers outside of St. Petersburg, and more than worth the day trip, is Peterhof Palace. Built in the early 1700s as a summer residence for Peter the Great, it greatly resembles the Palace of Versailles in France.
Altay
Horses in the Altay Mountains
The Altay Mountains in Siberia extend from Russia into China, Kazakhstan, and Mongolia. Traditionally inhabited by different ethnic groups involved in horse husbandry and forestry, it is also a very popular tourist destination for both locals and travelers. Together with a number of natural reserves and lakes, the Altay Mountains are part of a UNESCO World Heritage Site.
There's a lot of untouched beauty in Altay, where frozen rivers and snowcapped mountains attract cross-country skiers and other outdoor lovers in winter, as well as hikers (the area around Aktru Glacier is especially popular for trekking), kayakers, and climbers in summer. More unusual activities, including diving, cave exploring, and herb and mushroom picking, can also be pursued here.
The Denisova Cave in Siberia is particularly significant because of the bone fragments, artifacts, and even prehistoric horses that have been here—some dating back 50,000 years.
The resort town of Belokurikha is a popular starting point for Altay adventures, and many tourism agencies offer organized trips from here.
Sochi
Rosa Khutor ski resort
A summer beach resort town sitting right on the Black Sea, Sochi offers long stretches of pebble and sand beaches, imposing examples of Stalinist architecture, a summer film festival known as Kinotavr, and plenty of spas and outdoor markets to please all budgets and tastes. The longest river in Russia, Mzymta, cuts through Sochi before it empties into the Black Sea, and it's a very popular destination for rafting.
The 3000-square-kilometer Caucasian State Nature Biosphere Reserve, just 50 kilometers from Sochi, is a UNESCO World Heritage Site and home to a number of unique species of flora and fauna, including the endangered Persian leopard.
The nearby Rosa Khutor ski resort is another favorite destination during winter and a world-class alpine skiing area—the 2014 Winter Olympic Games were hosted here.
The Russian Tundra
The Russian tundra
The tundra is a unique biome that only exists in or near the Arctic Circle. Here, temperatures are so cold that trees can't grow, and only moss, shrubs, and certain types of grasses can get through the winter. In most places, the tundra is synonymous with permafrost—meaning the ground is permanently frozen. In areas where the top layer of ground does melt during summer, marshes and streams will form over the land, leading to beautiful patches of colorful icy water.
The Russian tundra is home to polar bears, seals, gray wolves, and rich birdlife during nesting season. Over the past few decades, ecotourism has become more and more interested in the tundra areas, especially the Great Arctic State Nature Reserve near Krasnoyarsk Krai, where visitors can take a number of environmental routes to explore, try bird-watching, or visit as part of an educational tour.
The city of Murmansk, in the Kola Peninsula, not only offers incredible tundra views, but it's also a great place to catch a tour to see the Northern Lights.
Peterhof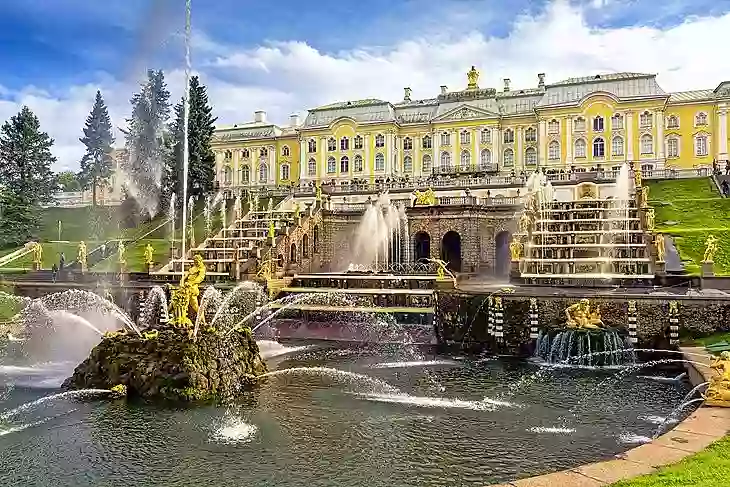 Peterhof Palace
Peterhof might be home to a university and a major Russian watch manufacturer, but this relatively small city's call to fame is the Peterhof Palace. Originally designed and built in the early 1700s for Tsar Peter the Great in a style that resembles the Palace of Versailles, the palace grounds cover an area of almost 4000 hectares.
There are 173 garden fountains around the palace—some, like the Grand Cascade fountains, with special features that activate water jets when people get close. The lower gardens, designed in French formal style, offer marble statues, shaded walking paths, and even an aviary pavilion.
The Grand Palace itself is a masterpiece of architecture, with majestic colors (there are gold details everywhere), art imported from Asia and the Far East, walls covered in authentic Chinese silk, and a massive ballroom covered in gilded carvings. The palace contains 10 separate museums, which hold art, furniture, and palace items from the 18th century.
Olkhon Island
Olkhon Island
One of the world's largest lake islands, Olkhon is covered in steep mountains, lush forests, and taiga. The island is in Eastern Siberia and has a small permanent population that consists mostly of local Buryats, a Mongolic indigenous group who believes the island to be a powerful spiritual place.
Tourism has become a growing industry on Olkhon Island, with visitors coming over to explore places such as the coastal sand dunes and the abandoned Peschanaya Village and former Soviet labor camp nearby.
This area is also famous for its "walking trees," an unusual phenomenon that causes strong winds to uncover tree roots on the beach and gives them the appearance of a standing person.
There are several semi-urban settlements on the island, with Khuzir being the largest and the one offering homestays for visitors who want to stay over. The village also houses the small but interesting National History Museum of Revyakin, which chronicles life on the island as far back as Neolithic times.
Petropavlovsk-Kamchatsky
Snow-covered volcano in Petropavlovsk-Kamchatsky
Located in the Russian Far East, the city of Petropavlovsk-Kamchatsky is surrounded by volcanoes (including the active, snowcapped Koryakskaya Sopka volcano) and cannot be reached by road. Those who take on the challenge and get here, however, will discover an active city center with tons of monuments, squares, and churches. The city lies right against Avacha Bay, a great place for a waterside stroll and to catch a whale watching tour.
Tours to the volcanoes should be at the top of your list if you visit here, but skiing on Krasnaya Sopka mountain and a visit to the world's only Museum of Salmon are also must-dos.
The small but unique Vulcanarium Museum here offers a unique insight into the world of volcanoes and probably your only chance ever to touch lava.
Vladivostok
The Russky Bridge in Vladivostok
Located near the borders with China and North Korea and just across the ocean from Russia, Vladivostok is Russia's largest port city. A major stop on the Trans-Siberian Railway route, the city was actually off-limits to foreigners during Soviet Union times and now receives lots of foreign visitors eager to discover it. The city is home to many parks and public spaces, including Sportivnaya Harbor with its beautiful beach and promenade, and the Eagle's Nest viewpoint at the top of a hill.
Vladivostok's Russky Bridge is a stunning architectural marvel and the longest cable-stayed bridge in the world at 1,885 meters. The bridge connects Vladivostok to Russky Island, where visitors will find Philippovsky Bay and its beautiful sandy beaches, as well as Voroshilov Battery, a military museum. History buffs will appreciate a chance to explore the WWII C-56 Submarine or visit the Museum Vladivostok Fortress, originally built to protect the city against potential attacks from Russia.
Anapa
Stony beach at Anapa
Anapa—perfectly located against the Black Sea and a very popular resort destination for decades—is well known for its sandy beaches, spas, and stunning views from the rocky promontory where Anapa's lighthouse sits. A somewhat more modest destination than Sochi, Anapa also offers plenty of other things to keep visitors entertained besides coastal attractions.
Places worth exploring include The Anapa Archaeological Museum and the single remaining gate of an Ottoman fort that once occupied this area.
Both the Sukko Valley and the Wildlife Preserve of Bolshoy Utrish are just minutes away from the city and offer plenty of options to explore nature, swim in clear waters, and take to the trails for some trekking.
Novosibirsk
Bugrinsky Bridge in Novosibirsk
Located on the banks of the Ob River, Novosibirsk is the third-largest city in Russia and the unofficial capital of Siberia—a place where summers are hot enough to swim and sunbathe, and the winters have temperatures that reach -40 degrees Celsius.
Home to the Novosibirsk Opera and Ballet Theater, a number of universities, and several museums, the city has much to offer visitors. The outdoor Museum for Railway Technology is particularly interesting, as it features many diesel and steam locomotives, electric trains, snowplows, and a number of unusual carriages, such as tank cars, hospital and prison cars, and even fire engines.
The Novosibirsk Trans-Siberian railway station is one of the largest ones in the country and it was once at the epicenter of the transport of prisoners to gulags (Soviet forced labor camps). Today, it is the main departing point for train adventures to nearby cities, including the town of Berdsk, on the shores of the Ob Sea—which is actually a man-made reservoir, not an actual sea.