Theni Tour Packages
Are you looking for Theni Tour Packages? Sivasudar Travels Kanyakumari provides top-notch packages for Theni Tour Packages From Kanyakumari that includes visit to Nambiyar River, Kuramathi Lake, Papanasam Beach and many more. hotels in Theni, taxi in Theni and more.Theni tour packages from Kanyakumari at competitive prices. We also have your stay covered with a variety of accommodation options. Call us at +91 9486753300 / 8526868688 now!
Suruli Falls
Suruli Falls is a beautiful waterfall in the Theni district of Tamil Nadu and one of the major tourist attractions of Theni as well. It is a perfect destination to get up close and personal with the nature and cool off in its pristine waters.
About Suruli Falls
Coming down from the Meghamalai Range, Suruli River falls into two stages to form the waterfalls of the same name. From a height of 150ft, Suruli Falls cascades down in a raging whiteness to gather into a pool and then fall for another 40ft after a short distance.  At the foot of the falls, hundreds of enthusiastic tourists take a dip every day. Many of them are devotees; some of them are looking to cure their long-suffering ailment, while the rest are there just to enjoy the falls.
Meghamalai
Tucked within the Western Ghats of Tamil Nadu, Meghamalai in Theni district is the kind of hidden paradise that you read about in books, complete with exhilarating trek routes, breathtaking scenes and an excellent opportunity to take a break from your everyday life in the lap of nature.
Vaigai Dam
A lifeline for the districts of Madurai and Dindigul both as a source of irrigation and drinking water, Vaigai Dam is also a fantastic destination for picnics and casual afternoon visits with friends and family. Located across the Vaigai River in Theni district of Tamil Nadu, Vaigai Dam is a major source of irrigation water for Madurai district as well as Dindigul district. The dam also provides drinking water to Madurai and Andipatti. Owing to its 174,000,000 cubic metre capacity, the Tamil Nadu government has also constructed an Agricultural Research Station for research and cultivation of a variety of crops including rice, sorghum, black gram, cowpea and cotton.
Entry Fee 
Entry to Vaigai Dam area is free of cost to the public.

Vagai Dam - Opening Time 
Vaigai Dam is open for visitors from 6 AM to 6 PM every day of the week. 

Vaigai Dam is an ideal location for casual gatherings and picnics with your friends and family. The staggering 111ft height of the structure itself is a magnificent sight to behold on your trip to Vaigai Dam. The body of the dam is illuminated every Sunday after the sun sets, making the whole area stand out in the darkness. It is an attempt by the Water Resources Department of Tamil Nadu, who is in charge of the dam to make it look more attractive and draw tourists and locals alike. the view from the dam 
Chinna Suruli Falls
Located in the lap of wild, green forests, Chinna Suruli Falls is a picturesque destination to visit from Theni. It cascades all the way down from Meghamalai to form a pool of cool, sparkling water at the foothills of the mountain. Located around 54 kilometres away from the main centre, near the Kombaithozhu village, Chinna Suruli Falls is a lovely and serene destination to visit in and around Theni. It can be included in your itinerary of local sightseeing if you are visiting Theni and its nearby attractions.
Open Timings
Chinna Suruli Falls is technically open 24 hours. But the public is only allowed between 7 am and 5 pm for safety reasons. It is not safe to go to during the dark because of its proximity to animal-prone zone. 
Shanmuganathi Dam

Shanmuganathi Dam in Theni district of Tamil Nadu is a lifeline for the drylands like Pusarikoundanpatti, Appipatti, Sukkangalpatti, Vellaiammalpuram, Odaipatti and Sepalakottai - all agricultural villages of Theni. The beautiful dam is set in a serene location, right at the foothills of Meghamalai Hills, very near to the village of Rayapanpatty.
Shanmuganathi Dam is built across Shanmugha River and stretches for about a kilometre. Given how important the dam and its water is for the nearby villages for drinking, cooking, cleaning as well as for irrigation purposes and growth of necessary cash crops like grapes and coconuts; it is aptly named after the most revered God in Tamil Nadu - Shanmugha or Lord Murugan, the Tamil avatar of Lord Shiva's ward and the War General of the Gods, Lord Karthikeya.
Kumbakkarai Falls
Located in Dindigul district near Theni in Tamil Nadu, Kumbakkarai Falls is a mesmerising waterfall that is situated at the foothills of the Theni hills. The water cascades down in two layers- at the first stage, the water collects at the rock boulders and recesses. And in the second stage, it falls down the layer of rocks. These recesses are named after wild animals like tiger, snake, elephant, cheetah etc.
Besides boasting of immense scenic beauty and the melodious tinkering of the gushing waters, the place also offers utter peace and tranquility. Also unlike most other waterfalls, Kumbakkarai Falls also offer shallow waters where tourists are welcomed to swim or to take a dip. The popular tourist spot is the most crowded during the rainy season when the water level is high and the neighboring areas glows with greenery. There is also a Murugan statue installed at the spot.
Cardamom Capital of India"
Bodinayakkanur Tourism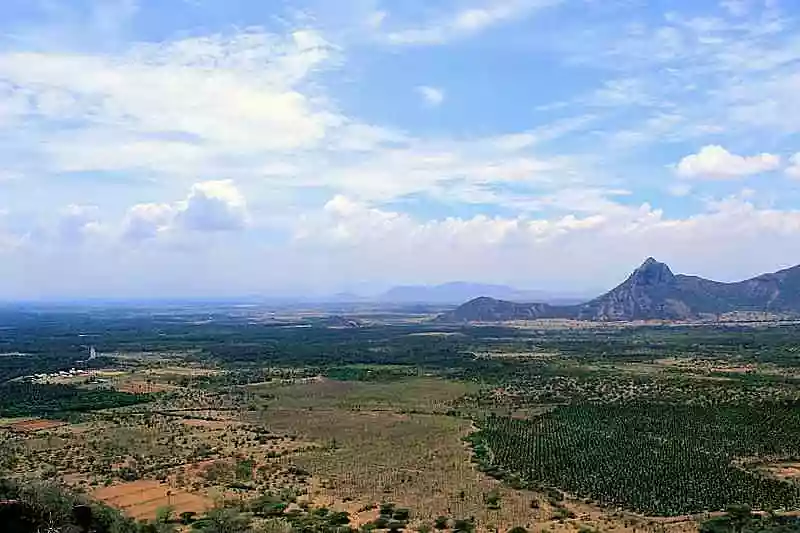 Bodinayakkanur is a town in Theni famous for its scenic beauty. Despite being a Tamil town, the elevation of 1,158 ft. makes for pleasant weather throughout the year. While cash crops grow here in plenty, it also boasts of spice plantations and is known as the Cardamom capital of India. Lush forests in steep-cut rocky mountains are picturesque beyond compare. Many Tamil films have also been shot here. Former Prime Minister Jawaharlal Nehru called Bodinayakkanur 'South Kashmir'.
How to Reach Theni?
Kanyakumari is connected with Theni by road. It is only 285 kms from Kanyakumari to Theni. There are regular buses and Taxi services available from Kanyakumari to Theni. You can book online bus tickets from Kanyakumari to Theni as well. Also get to know bus schedules, routes and timing from Kanyakumari to Theni.